Our Staff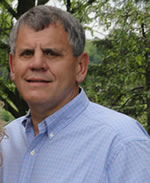 Chris W. Gilbert DVM is a 1982 graduate of The Ohio State University College of Veterinary Medicine. After graduation Dr. Gilbert returned to his hometown of Greenville, Ohio and started a mixed animal practice, Darke County Veterinary Service, LLC.
Dr. Gilbert splits his time between small animals and equine. He is known for his extensive experience with equine lameness issues especially those found in performance and race horses. An interest in alternative medicine led Dr. Gilbert to study acupuncture in 1984.
He is a member of the American Veterinary Association, the Ohio Veterinary Association, the International Veterinary Acupuncture Society, the American Association of Equine Practitioners, and the United States Trotting Association.
He enjoys spending his free time with his family and raising and showing beef cattle.